02 September 2019
Zhejiang Weigang debuts rotary offset press and flexographic printer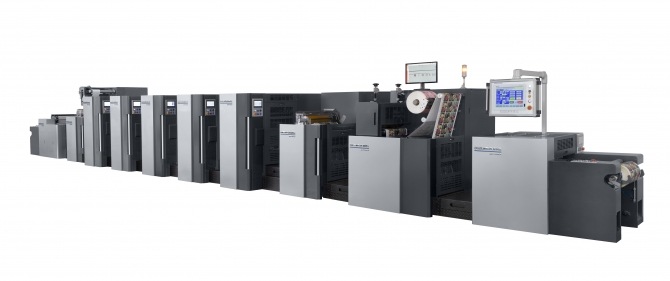 Click on image to download high resolution version
Weigang will debut its latest ZP-480/680/900/1200 rotary offset press at Labelexpo Asia 2019. Features include:
1. A high-speed rotary offset printing machine(with sleeve technology) which owns more than 20 national and international patents.
2. Continuous offset printing mode and variety printing sleeve technology, which makes printing fast and quality high.
3. The plate roller and the blanket roller adopt the air expansion sleeve type, achieving short plate changing time, easy operation, and high efficiency.
4. The inking system and water system are automatically adjusted according to variable printing sleeve. Super inking system makes the inking move evenly, printing pressure more stable and easy adjusting.
5. Unwinder has automatic tension control and is equipped with web guider.
6. Printing tension controls automatically, the web passing smoothly even at high speed. Stable printing tension ensures high-speed and high-precision printing.
7. This machine has the function of automatic pre-registration, automatic registration by photocell after set-up and second pass with registration.
8. An inline inspecting system can be installed according to the user's requirements.
9. Based on offset printing units, the machine can combine with other functions such as flexo, gravure, cold stamping, hot stamping, die cutting, embossing and so on.
10. This machine is suitable for variable substrates, such as: self-adhesive paper, paper and unsupported film (BOPP ,PET ,PP ,PVC, etc.).
The Weigang flexographic printer (pictured) adopts the latest servo control system Rexroth-Bosch from Germany, and each printing unit is driven by an independent servo motor. There are 23 servo motors in total for an 8 color machine, which ensure the accurate registration during high speed running.
The printing roller adopts a sleeve system which is light, easy, convenient and fast to change. This type of design is largely to improve the printing quality and reduce maintenance.
The anvil roller is equipped with a water chiller, making it suitable for film material as well.