23 October 2019
Triple roadshow success for Labelexpo Asia 2019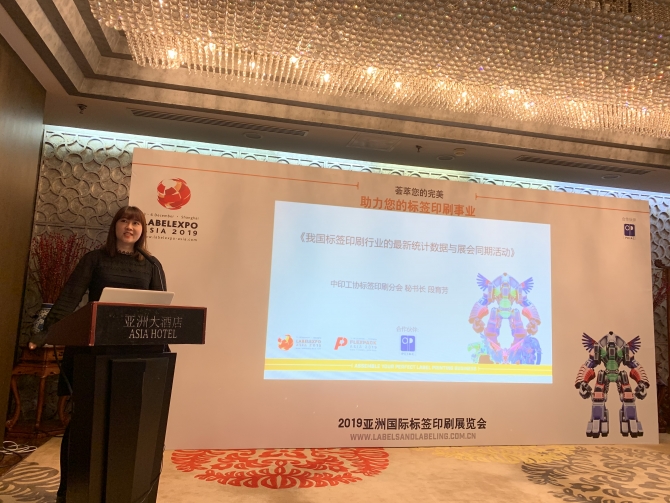 Click on image to download high resolution version
Up to 150 members of the media and manufacturers of label and package printing machinery attended a series of three roadshow events across China last week, hosted jointly by the organizer of Labelexpo Asia 2019 and key industry partner, the Printing Equipment Industries Association of China (PEIAC).
Held in Beijing, Guangzhou and Shanghai, and strongly supported by several other trade associations, the three half-day events, held between 16-18 October, were an exclusive opportunity for the industry in each region to gain a preview of Labelexpo Asia 2019.  Each event featured a presentation by Kevin Liu, Labelexpo Asia project director, who revealed the latest industry trends – notably growth in digital printing and e-commerce. He also presented show highlights, with flexible packaging of particular focus, reflecting its expansion into flexible printing.
The guest speakers were representatives of the respective trade associations, led by PEIAC and Gravure Association of China (GAC) in Beijing, Flexographic Printing Branch of China Printing Technology Association in Shanghai, and Guangdong Printing Association and Guangdong Packaging Association in Guangzhou. Liu said:
"We are pleased with the success of our roadshow events once again, attended by an industry incredibly eager to learn about the latest trends and gain an insight into this year's Labelexpo Asia. China has one of the world's fastest growing label sectors, increasing by up to 10 percent annually over the past five years, which is creating huge opportunities for the wider printing industry.   
"All three events demonstrated incredible optimism, with speakers all unanimously agreeing that with China now also the second largest producer of packaging in the world, and consumer demand for label and package printing only continuing to accelerate, this is an extremely exciting time for the Chinese printing industry. This bodes extremely well for Labelexpo Asia 2019."
Echoing this sentiment, Duan Yufang, secretary-general, Label Sub-association of PEIAC (pictured), said in Beijing: "Since 2017, China's printing industry has entered a new "window period", with its growth rate bottoming out and going up, quality and efficiency significantly improved, and its industrial structure optimized. Label printing is a fast-growing sector in China's printing industry, which has already formed a complete industrial chain. The upcoming Labelexpo Asia 2019 can be considered as a review of how label industry developed from scratch to "much", then to "quality" and later to "excellence" in 40 years. Also, it's held in celebration of the 70th anniversary of the founding of new China. It's a restarting point of label printing to be green, digital, intelligent, inclusive and quality."
Flexible packaging was highlighted as the most important trend to look out for overall. Li Jiong, secretary-general, Guangdong Printing and Replicating Industrial Association, said in Guangzhou: "Flexible packaging has achieved the fastest growth rate in the packaging industry. The change of consumers' lifestyle and their preferences will continue to drive the industry further. One of the highlights of Labelexpo Asia is Flexpack Asia, the first exhibition about flexible packaging. This will meet the needs of printers and brand owners who just entered into this field to find new solutions. In the expo, equipment with excellent quality and reasonable price, and demonstrations of hundreds of cutting-edge technologies from leading suppliers, will bring us into a new world of label and packaging printing."
Zhu Zhiwei, secretary-general, Guangdong Packaging Technology Association, added: "The label and flexible packaging industries play an important part in the package sector with tremendous momentum and an immense market. Yet there is still a huge market potential to be tapped. China is the world's largest food and drinks market, and its demand for flexible packaging is growing much faster than other packaging materials. It is estimated that global demand for pharmaceutical flexible packaging will increase by 6 percent annually and generate a market value of 112 bn USD by 2021. With such huge domestic and global flexible packaging markets, China is enjoying abundant opportunities at the moment in this industry.
"In an ever-changing global market, it is necessary for Labelexpo Asia and FlexPack Asia to serve as the bridge for exchanges between China and the rest of the world to achieve win-win results."
Aimed at printers, designers, brand owners and industry suppliers, Labelexpo Asia is the largest label and package printing event in the region, and will run from 3-6 December at Shanghai's New International Expo Centre (SNIEC). Supported by PEIAC, the show provides a platform for 300 industry leading companies from the region and more widely to showcase their expertise, products and technology innovations. It brings together the entire supply chain with machinery, ancillaries, substrates and ink suppliers all under one roof.
Flexpack Asia is one of several specially themed areas at the show. Located in hall E3, it will showcase the latest technology in flexible packaging for the very first time, giving visitors the opportunity to see in-line presses in action, as well as learn about the latest innovations in inks, coatings and surface treatments such as corona for flexible packaging and laminating films. Ancillary machines will also be demonstrated, such as high speed slitting equipment for master flexible packaging rolls.
Also perfectly located within Flexpack Asia is a Flexible Packaging Arena, seen for the very first time at the show. Following hot on the heels of a highly successful introduction at Labelexpo Europe 2019 in September, and sponsored once again by Xeikon plus Wanjie, visitors will have an exclusive opportunity to see two press lines in action showcasing flexible packaging production.
A greatly expanded Smart Zone gives attendees the opportunity to experience labels and packaging that are multisensory, intelligent and interactive, such as 3D holograms, nano-materials, advanced decoration technology, special inks and RFID/NFC labels. 
About the events:
The three roadshow events took place as follows:

Beijing: Asia Hotel Beijing, 16 October 2019
Speakers: Ms. Cao Guorong (Speakers), president, the Gravure Association of China (GAC); Ms. Duan Yufang, secretary-general, Label Sub-association of PEIAC; and Ms. Chen Yao, 2019 International Label Printing Industry Forum.
Guangzhou: DoubleTree by Hilton Guangzhou, 17 October 2019
Speakers: Mr. Li Jiong, secretary-general, Guangdong Printing and Replicating Industrial Association; and Mr. Zhu Zhiwei, secretary-general, Guangdong Packaging Technology Association.
Shanghai: Shanghai Huating Hotel, 18 October 2019
Speaker: Mr. Shi Jianping, secretary-general, Flexographic Printing Branch of China Printing Technology Association.
The events were attended by Chinese trade media including: Asia Pacific Printing & Packaging, Packaging front, Print China, Printing Today, RFID Journal, bisenet.com, China Adhesive, China Adhesive, Active and intelligent packaging, China Green News, China Packaging, China Packaging News, China Print, Flexographic Printing, Gravure China, Green Package, www.keyin.cn, Guangdong Printing, Label Technology, Li Bang Printing Network, pack168.com, Packing Box Industry, paperpacking.com.cn, Printing Field, printing.hc360.com, Printing Packaging edition of China Press & Publication Newspaper, Redon Media, RePrint Magazine, Screen Printing, Screen Printing Industry, Redon  Media, RePrint Magazine, Ringier, Shanghai Pack, www.cpi118.com, www.superpack.cn and Yinsoso.