02 September 2019
Taiyo displays STF-340 flexographic machine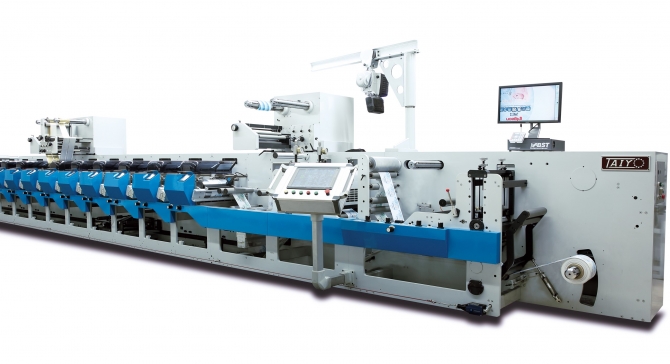 Click on image to download high resolution version
Manufacturer of special anti-counterfeiting label printing equipment in China, Taiyo KIKAI will take its STF-340 flexographic machine (pictured) to Labelexpo Asia 2019.
The Taiyo STF-340 adopts a shaftless servo drive structure, suitable for printing materials with a thickness of between 20-400 micron. The maximum feed width is 340mm-460mm, and the printing repetition is 5.5-26". The super pressure cylinder design can achieve the best reduction effect of screen dots.
Cavity water circulation can uniformly control the substrate temperature, making it possible for ultra-thin film printing. Its large diameter anilox roll adopts light hollow structure, provides excellent ink transfer, and is easy to install and clean.
The Flexographic unit adopts a double servo drive structure.  The varying thickness of the printing material will not affect the meshing gap, and its ability to print will not change. The underlying horizontal overturning device helps avoid paper snaking. Two color groups of non-adhesive surface printing can be completed with floating rolls.
The Taiyo STF-340 can be in-line with cold stamping, screen printing, and any color group can be shifted to each other, depending on customer need, and it can increase or decrease the number of units before and after.