16 October 2019
OMET presents its iFLEX label printer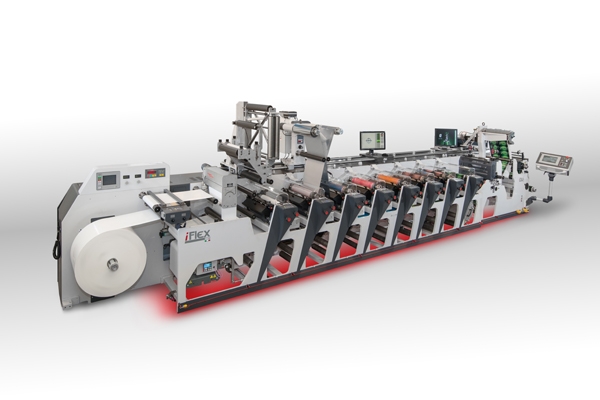 Click on image to download high resolution version
OMET (stand A1) is showcasing its iFLEX label printing press, which combines a number of innovative technologies designed to simplify operations and improve printing efficiency.
Offering printing cylinder with "Direct Drive" technology, there's only one gear on each flexo unit, compared with the traditional gear-driven printing machine, meaning that not only the printing precision is greatly improved, but also furtherly ensured the high-quality printing effect.
The width of the machine is 370 mm and is equipped with UV curing system. The i-Light pre-register and i-Vison registration system allow manual register adjustment to be as fast and accurate as servo adjustment register, reducing waste. The same technique is also used for die-cutting registration to make it more timely and efficient. The ECDC easy change die cutting unit is provided at the end of the machine, thanks to Rock & Roll matrix striping rewinder, ensuring an efficient and smooth printing process even if the complex product is processed.
The web path between two print units is as short as 1.3m, which not only greatly reduces the material loss during start-up stage, but also reduces waste during the register adjustment stage to less than 1.3m.
The iFLEX label press can be easily matched with a variety of process units and devices, such as cold foil, silk-screen, varnish, and terminal cameras according to the customer's needs; in addition, the machine can use both UV ink and water-based ink for printing.