09 October 2019
Haotian to showcase HTS digital inkjet printers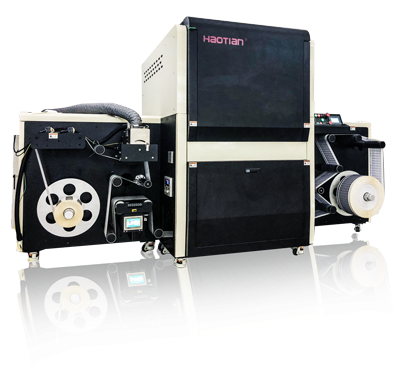 Click on image to download high resolution version
Manufacturer of high-speed digital inkjet printing machine for color labels in China, Haotian Machinery will showcase its HTS series of digital inkjet printing machines at Labelexpo Asia 2019 (stand B1).
Functions and benefits of the machinery include:
The piezoelectric nozzle with the highest speed and precision in the world is adopted, and its precision reaches 600x600dpi. It can achieve high-quality portrait. Printing speed up to 50m/min, sprinkler life is long;
 
Material adaptability is strong, can be applied to paper, PVC, PET, PE, BOPP, gold and silver foil and other materials, the material surface does not need to be pre-coated, reducing process, reducing costs.
 
CMYK + W color group, easy to achieve transparent/non-transparent material full-color printing, without plate-making;
 
Variable data print can easily print, such as one-dimensional code, two-dimensional code, pipelining number, dot matrix code and so on. It achieves one standard and one code to meet the demand of anti-counterfeiting traceability order;
 
Friendly, concise and easy-to-use typesetting and output software can quickly change the order operation, without waiting for the operation, and improve work efficiency;
 
Ultra-low production cost, ultra-low supply of ink, sprinkler and other spare parts, basically close to the cost of traditional printing;
 
With the patented technology of automatic sprinkler cleaning and maintenance system (A-clean), the sprinkler module can be cleaned and maintained effectively, which can reduce the waste of ink and damage caused by human factors, and prolong the service life of the sprinkler;
 
Imported environmentally friendly UV ink, non-toxic and non-VOC emissions, certified by the nozzle manufacturer, no blocking nozzle, good color reduction;
 
Double servo tension control is adopted in the printing section. The tension control of the front and back feeding and discharging materials is used. The stable and reliable tension control system ensures the smooth running of paper and the accuracy of alignment;
 
Built-in corona, dust removal and electrostatic device can effectively improve the affinity and adhesion between material and ink, reduce the influence of material and external factors on inkjet imaging, and improve printing quality.