07 October 2019
Boyuan to exhibit green packaging material solutions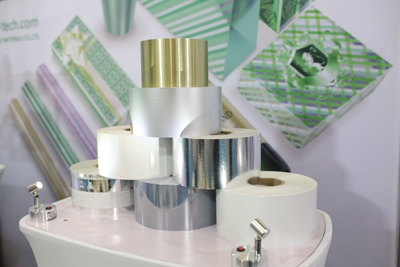 Click on image to download high resolution version
First time exhibitors at Labelexpo Asia, Yantai Boyuan Technology Materials Co. Ltd will exhibit a full range of solutions for green packaging materials in the Flexpack Asia feature area of this year's show (stand L56).
Established in 2005, the company is mainly engaged in the research, development, production and sales of vacuum metallized paper, adhesive label paper, release paper (film) and cigarette label, wine label and other high-grade packaging decoration prints.
Independent research and development of E-Beam (EB) curing adhesive label materials consists of the beam from the type of substrate and vacuum metallized plating surface material, applied to food, medicine, tobacco, chemical, electrical, toys, logistics and other fields. The production process does not need coating, using beam curing coating, 100 percent curing at room temperature, zero volatilization, has no pollution, and is environmentally safe. In addition, it is resistant to high temperatures and oil. Residual adhesion can be stable at more than 95 percent.
Find out more about Flexpack Asia.